Are you thinking of building a miniature dollhouse and do you feel scared just thinking about building it? Well no worries here because my dad and I have some great building tips and tricks to make it easier for you to start your very own build. Please feel free to watch and share all of these videos for some great miniature dollhouse building tips and tricks.
Dads 1:12 Scale Ruler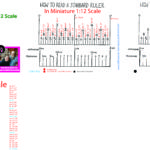 Download PDF-Dads Ruler
1:12 Scale Ruler Tutorial
Antiquing Paint-Build Tip
Install box molding/floor trim
Multi Cut 3 in 1 Cutting Tool
Double Hot Glue Gun Stand
Here is a list of all the supplies I used during my miniature dollhouse build.
More Dollhouse Building Tip videos are coming soon
Basic Build Tools
Ruler
Pencils
Erasers
Small Clamps
Large Clamps
Stickpins
Masking tape
Duct tape
Wood Glue
Crazy Glue
Hot Glue
Contact Cement
Scrap wood (used as wedges)
Finishing Nails
Paneling Nails
Coping Saw
Sandpaper (medium and fine grit)
Sanding Block
Nail File (sanding stick)
Extreme Tools
Utility Knives (Box Cutter)
Miter Box
Ban Saw
Dremel
Drill
Table Saw
Radial Arm Saw
Electric Sander
Lighting
LEDs
Copper Foil Tape (Adhesive Back)
Copper Wire
Switches
Power Supply
Flux
Soldering Iron
Solder
Windows
Sheet protectors/thin plastic for glass
Pin-stripe tape for window lines
Roof
Ogee moulding for eave of the roof (Corbels)
Gold scrapbook paper (Reflective Surface)
Wood Stain
Two sided tape
Porch Railing
18 Gage Copper wire
1/4" Square Dowel
3/8" Square Dowel
Furniture Supply List
1/8" Basswood
1/4" Basswood
Mini hinges
Headpins
Stickpins
Masking Tape
Scotch Tape
Two Sided Tape
Epoxy
Liquid Super Glue (that holds wood and metal)
Gel Super Glue (that holds wood and metal)
Other
Homemade jigs for select items